JEFFREY MA, MBA, BSc
President and CEO, Komo Plant Based Comfort Foods Inc.
Jeffrey Ma assumed the role of President and Chief Executive Officer of our operating subsidiary Komo Plant Based Comfort Foods Inc. on December 9, 2020. Under his leadership, we successfully launched our initial product offering of Komo Comfort Foods through our proprietary eCommerce platform, garnering over 45 - 5 star reviews from verified buyers within 60 days of launch. Jeffrey has worked in the plant-based food industry for the past 9 years and his experience involves leading innovation platforms that include dairy-free alternatives, plant-based nutrition, and better-for-you snack formats.
Jeffrey was the Research and Development Project Lead at Daiya Foods Inc. for 4 years, team leader while the company grew to the #1 Plant-based cheese brand in North America. Jeffrey was the creator of award-winning Daiya dairy-free mac & cheese. While at Daiya from 2012 to 2015 Jeffrey led a cross-functional team to create new plant-based products, including one product which was a first-of-its-kind in the marketplace and was named PETA 2015 Best New Vegan Food Item. While at Daiya Foods, he expanded Daiya's product portfolio to include innovative plant-based offerings: yogurt, frozen pizza, cheese blocks and cream cheese. In 2017, Otsuka Pharmaceutical Co., purchased Daiya Foods for $405 million dollars.
Jeffrey was the Research & Innovation Manager at Vancouver-based protein shake, snack bar and supplement maker VEGA (Danone Company) for 3 1⁄2 years, team leader while the company grew to the #1 Plant-based Protein Powder brand in North America (acquired by Danone Co. in 2016). While at Vega from 2015 to 2019, Mr. Ma was awarded Operations Member of the Year 2016 through successful launch and extension of Vega's nutrition bar portfolio. He managed a team of five product developers to deliver Vega's Innovation and Renovation roadmap, leading to renovation of 80% of Vega's product portfolio and launching a new ready-to-drink and bars platform. Organic Foods producer WhiteWave Foods acquired Vega for USD$550 million in 2015 and then in 2016 Danone acquired WhiteWave Foods (with multiple brands including Vega) in a deal worth US$12.5 billion.
Jeffrey's goal is to create impactful products and brand love by blending science, consumer trends and creative spark.As a vegan, Jeffrey believes wholesome, real food should be at the core of every delicious plant-based meal.
Mr. Ma holds a Bachelor of Food Science degree from the University of British Columbia and he has a Master of Business Administration, Innovation and Entrepreneurship, from the Sauder School of Business, at the University of British Columbia.
ADYA DJOKO, BSc
Senior Director, Operations & Food Safety, Komo Plant Based Comfort Foods Inc.
Adya has over 13 years of experience in the food industry and has experience with a wide array of foods including baked goods, meat alternatives and dairy-free alternatives in frozen, refrigerated and ambient categories. Her management experience includes overseeing food safety, regulatory, quality, all the way to operations and supply chain. She worked in various roles at Daiya Foods Inc. from 2012 to March 2021. Her most recent position at Daiya Foods was as the Director of Food Safety & Quality Assurance, where she oversaw management of Daiya's food safety program in-house and at co-manufacturers, while managing a team of 24 individuals in quality and regulatory affairs. In that role, she drove continuous improvement projects within the quality and regulatory team to keep up with a highly dynamic product development schedule and aggressive international expansion strategies. Throughout her 9 years at Daiya Foods she managed relationships with co packers. As the Director of Supply Chain at Daiya Foods she oversaw Daiya's supply chain strategies including planning, procurement, logistics/distribution, and warehousing. She is a connection builder and values vendor relationships as the key pillar to support the company's long-term growth.
With experience working at a large corporation (Ralcorp Frozen Bakery Products from 2008 - 2012, as well as from an innovative, high-growth plant-based start up (Daiya Foods), Ms. Djoko understands the importance of balance between system & processes and nimbleness & courage. She is an expert in agile new product launches and commercialization. She is experienced in due diligence processes, mergers and acquisitions and onboarding (through Sara Lee Bakery, Ralcorp Frozen Bakery Products, Otsuka Pharmaceuticals). Outside of work, she is passionate about giving back to the planet and community by serving as a mentor to 12 graduating students from UBC and BCIT, and is currently an advisory board member of FoodMesh which is a local company focused on diverting waste by finding a home for imperfect and near-expiry foods. Adya has a Bachelor of Science in Food, Nutrition and Health from the University of British Columbia.
FRÉDÉRIC GAGNÉ
Director of Culinary Development, Komo Plant-Based Comfort Foods
Frédéric Gagné aka Chef Fred was born and culinary trained in Quebec, Canada, but his enthusiasm to learn new cultures and cook different cuisines has taken his culinary journey across the world. He has been a health enthusiast and professional plant based chef for over 20 years.
In September 2020, Komo Foods began collaborating with Chef Fred to create delicious plant-based meals and in May 2021 Chef Fred joined Komo as our Director of Culinary Development. He works closely with our CEO to bring delicious, hearty and nutrition meals to market under the Komo brand.
Being in the hospitality industry for more than 30 years, Chef Fred has worked in the North Pole, Australia and everywhere in between. Having experience of every role in the kitchen, he understands how each of them contribute to a successful culinary operation. Chef Fred's expertise advising on the development and improvement of food service operations, including menus, food safety, costs & profitability, has been valued by high quality hotels & resorts, catering companies and restaurants in Europe, North America, Australia and the Caribbean. Chef Fred worked as the Executive Chef for one of Canada's largest restaurants, SteamWorks, with a team of 42 chefs, for approximately 13 years.
Chef Fred is a dedicated team leader and mentor to his staff. He has successfully managed teams as large as 42 and has trained many chefs privately. He has managed events for hundreds of guests, equally, he has executed many private functions. Each time, his goal is to create a culinary experience that guests will remember. To do this, he is continually expanding his knowledge of culinary techniques and trends, which has made him skilled in adapting to changes in the hospitality, food and health industries. Chef Fred values the importance of sourcing sustainable ingredients and enjoys creating delicious plant-based dishes. He also co-hosts a weekly online show promoting healthy lifestyles. As a vegan chef, Chef Fred brings enthusiasm, creativity and a social awareness to everything he does. He promotes a healthy lifestyle while informing his followers on ways to stay healthy and fit while enjoying a plant-based lifestyle. He is a holistic nutritionist & transformation specialist helping people live a healthier lifestyle while offering catering and teaching to his clients.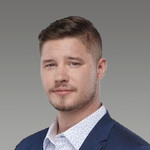 WILLIAM WHITE
Founder and President and CEO, Komo Plant Based Foods Inc.
Mr. White is a passionate proponent of Komo's mission to change the eating habits of people through innovation by creating delicious plant-based meals. Mr. White founded the company in 2018 and as chief executive officer, he sets the corporate strategy for Komo, overseeing all capital raising activities and the company's growth and ensuring that the company develops initiatives that can positively impact society, including issues affecting the environment, and policies that support our workforce and diversity, engagement with the community and governance and oversight such as board composition, code and values. Founder, President, and CEO of Lynx Gold Corp. (recently acquired buy a public company) From November 2020 to the present, Mr. White has been the President and CEO of Komo Plant Based Foods Inc. and he led the acquisition of our operating subsidiary, Komo Plant Based Comfort Foods Inc., where he previously served as President and Chief Executive Officer from January 2018 to December 2020. From August 2020 to March 2021, Mr. White was the President and CEO of Lynx Gold Corp., a junior gold exploration company, which was acquired by a publicly traded company in October 2020. In 2017, Mr. White was self-employed in a home building and renovation business. From 2007 to 2017, he worked in safety and logistics compliance and in human resources management in the long haul transport industry, acting as a Safety & Logistic Compliance Officer, as well as a human resources manager. His experience in the transport industry included recruitment and managing all US Department of Transportation and Canadian National Safety Code ratings inclusive of accident investigations, implementing, monitoring, and managing safety programs, policies, and procedures. He has been an active investor in the capital markets for the past five years and has taken courses in Financing, Governance and Compliance for Public Companies at Simon Fraser University.
Mr. Huang has been CFO of the company since February 2021 and he manages the accounting and financial reporting for Komo Plant Based Foods Inc. and our subsidiaries. He has served as a CFO for publicly traded companies for more than a decade, managing all aspects of finance, banking, compliance, accounting, reporting, internal control, admin, and supporting the board of directors in financial oversight. Previously, Mr. Huang served as CFO of Hanwei Energy Services Corp. (TSX: HE) from April 2007 to May 2018 where he has managed all aspects of finance, banking, compliance, accounting, reporting, internal control, admin, supporting the board of directors in financial oversight. He also has supervised all aspects of accounting for various subsidiary companies in Canada, China, and Kazakhstan and consolidations under IFRS. He has worked on investor relations activities, roadshows, AGM preparations, and licensing agreements. He has led various public equity financing projects raising funds of up to $90 million and leading acquisitions of up to $80 million. Rick has engaged in negotiations for international joint ventures, including drafting shareholders' agreements, establishing international legal entities, and asset transfers. Rick's experience also included various finance and marketing roles with large international companies like the Pepsi Bottling Group (Canada), Schering Plough Canada, and Coca-Cola China. Rick also serves as Chair of the Audit Committee for Datable Technology Corp. (TSXV: TTM) from 2015 to present and he has been the Chief Financial Officer of Better Plant Sciences Inc. since 2018, working with the CEO to raise over $12 million. He was previously Chair of the Governance Committee and member of the Audit Committee of Poydras Gaming Finance Corp. (TSXV: PYD) from 2012 to 2014. Rick has been a designated CPA and CGA since June 2005. Rick completed his Bachelor of Arts at Shanghai International Studies in 1991 and his Masters in Business Administration at the University of Western Ontario in 2001.